How to Get Philippine Passport: An Ultimate Guide to Application, Renewal, Fees, and Requirements
Philippine passport is your ticket to the world.
It's inarguably the most important government-issued document you need whenever you want to study, work, or travel overseas.
But getting it can be tricky.
Rules change every now and then. Appointment slots get filled faster than you've ever imagined. And although DFA has a website to assist passport applicants, the walls of text and long lists of information can overwhelm any first-time user.
If it's any consolation, the government has recently extended the validity of the Philippine passport to 10 years. Note that this only applies to those 18 years old and above; minors less than 18 will still be issued 5-year valid passports.
To save you from all the headaches, I've laid down the bare bones of getting and renewing your Philippine passport in 2018 (and beyond).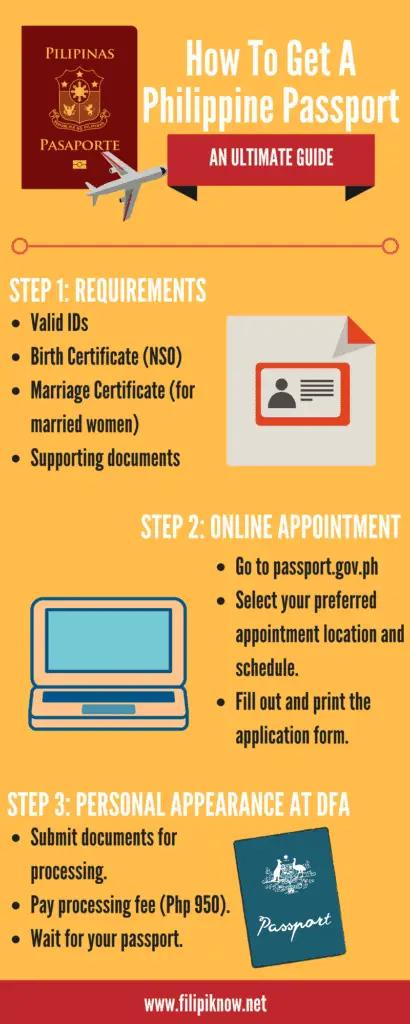 Part I: Philippine Passport Application.
This section is for those who are applying for their Philippine passport for the first time. For Philippine passport renewal, please refer to Part II of this guide.
Step 1: Prepare all the Philippine passport requirements.
For new applicants, here are the general requirements you need to get a Philippine passport:
Valid ID (original + photocopy).
You can bring any of the following valid IDs:
SSS ID

GSIS UMID

Voter's ID

Driver's License

Senior Citizen ID

PWD ID

School ID (for students)

PRC License

OWWA or iDOLE card

PNP Firearms License

For OFWs or Filipinos based in other countries, you can also bring your Residence Card or any other ID showing your Philippine citizenship.
Also Read: How to Get NBI Clearance Online – An Ultimate Guide
Birth Certificate (original + photocopy).
It must be an original copy authenticated by Philippine Statistics Authority (PSA), printed on SECPA (Security Paper), and issued by the National Statistics Office (NSO).
Report of Birth duly authenticated by NSO is needed if you're born abroad.
Alternatively, you can also present a Certified True Copy (CTC) of your birth certificate issued by the Local Civil Registrar and duly authenticated by NSO.
For married women: In addition to the original copy of your birth certificate, you must also bring the original copy of your marriage contract or Report of Marriage (if married abroad) authenticated by the Philippine Statistics Authority (PSA).
Related Article: How to Get Married in the Philippines
For women married to a foreign national, provide the original and photocopy of Commission of Filipino Overseas (CFO) Guidance and Counseling Certificate of Attendance.
For minors: Applicants who are below 18 years old are required to appear at the DFA office with at least one parent. If neither of the parents is available, any adult companion is allowed as long as he/she submits an authenticated Special Power of Attorney executed by the parent/s.
In addition to the applicant's original copy of birth certificate, the passport or valid ID of either parent is also required. School ID of the minor is also acceptable.
Minors with no birth certificate, who are illegitimate,  and who are legally adopted (or in the process of foreign adoption), are required to present additional supporting documents. For a complete list of these requirements, check out this link.
Supporting Documents.
Additional requirements will also be required from adult applicants with unique cases such as those who are naturalized Filipino citizens, have dual citizenship or have no birth certificate to present.
For a complete list of these documentary requirements, click here.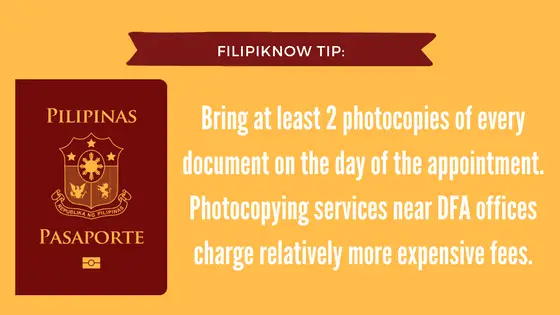 Step 2: Schedule a Philippine passport appointment.
An online appointment is required before making a personal appearance at the DFA office. This step involves filling out an application form and choosing your preferred appointment location and schedule.
Note that as of this writing, the online appointment is only available for Filipinos living in the Philippines. For those based abroad, passport applications are filed at the nearest Philippine Embassy or Consulate.
Things you need for the passport online appointment system:
A working computer with internet access.

A Web Browser. (Internet Explorer ver.11 or higher / Mozilla Firefox ver.45 and up recommended)

A VALID and WORKING EMAIL ADDRESS to receive system-generated messages.

A PDF reader and a working printer to view and print the system-generated application form in A4-size paper.
Here are few important things you need to know:
You need a Gmail or Yahoo! email account for the appointment. Technical incompatibilities prevent email addresses from Outlook, MSN, Hotmail, and Live from receiving email confirmation.

The online appointment system works on a first come, first served basis.

If possible, choose an earlier schedule (AM) to avoid long queues and to have your passport application processed within the same day.

You can also try to schedule a passport appointment over the phone through the DFA customer service hotline at (02) 737 1000.

Passport appointments are FREE. Be wary of fixers who charge exorbitant fees to illegally secure slots in the online appointment system.
The following people don't need to set an appointment and can go directly to priority lanes assigned to them at DFA offices:
Minors who are 7 years old and below.

Pregnant women with a medical certificate.

Senior Citizen with Senior Citizen ID.

Solo parent with valid Solo Parent ID.

OFWs with valid iDOLE card, visa, and POEA-authenticated employment contract.

People with disability with valid PWD ID or visible disability.
If you're ready to make an appointment, head over to the DFA passport appointment system website. Select "Schedule An Appointment" from the top menu.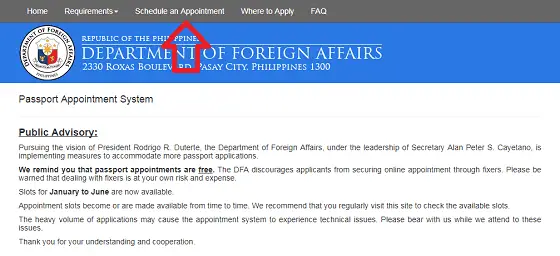 After reading the Terms & Conditions, choose "Start Individual Appointment" (if you're applying for yourself) or "Start Group Appointment" (if you're making group appointment for your family).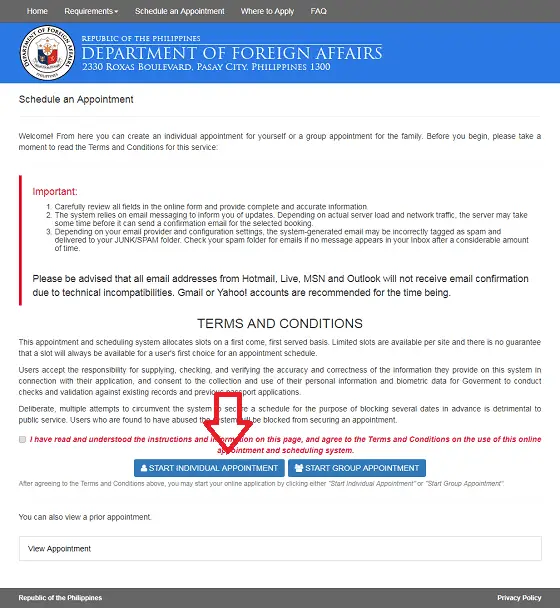 Choose your preferred appointment location. Aside from DFA Aseana, there are regional consular offices throughout the country and satellite offices located in select malls in Manila that also process applications.
Select one nearest to your place to save time. To see the complete list of DFA offices, go to this link.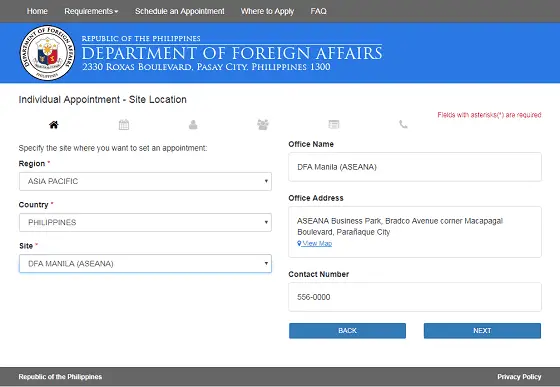 Select your preferred appointment date and time. Dates that are marked green indicate that there are available slots left while those with red indicate all slots have already been filled.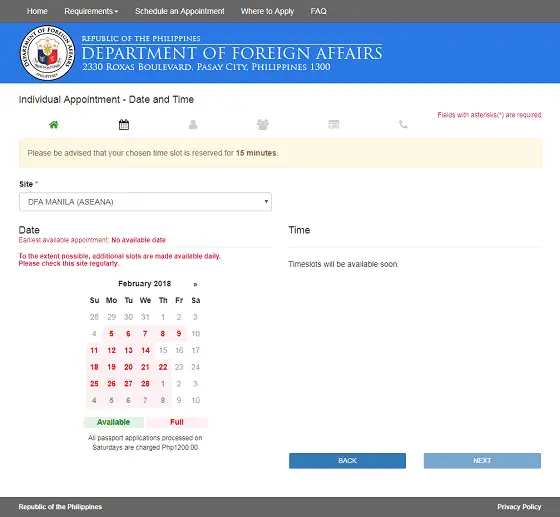 Next, you will be asked to provide your personal details in the application form. Ensure that all information is correct and accurate before proceeding.
After filling in all the required information, a reference number including a link to print your passport application form will be sent to your email.
Print and bring the application form along with the requirements on the day of the appointment.
Step 3: Proceed to DFA office on your appointment date and time.
Ensure that you arrive at the place 30 minutes to 1 hour before your scheduled appointment. Latecomers will not be accommodated.
Also, if you've chosen to appear in one of DFA satellite offices, keep in mind that they only process passport applications and renewals. Other issues like citizen evaluation cases and lost passports are addressed to DFA Aseana.
Important reminders:
Observe proper dress code. People wearing sandos, spaghetti straps, shorts, tubes, sandals, and slippers may not be allowed to enter the building.

As mentioned in Step 1, minors below 18 years old are required to appear with a parent or an adult companion.

Don't forget to bring the printed application form as well as original copies and photocopies of the requirements.

No need to bring passport-sized photos. The encoding team will do the image capturing for you.

As of this writing, Philippine passport fee is Php 950 for regular processing (15 days) and Php 1,200 for the express processing (7 days). Bring additional money to cover unexpected fees.
Here's an overview of what you will do on the day of the appointment:
First, present your application form and requirements to the Appointment/Application Counter. You will be given a queue number.

Fall in line in the designated area and wait for your number to be called or displayed in the monitor. Proceed to Information Counter/Processing Area and present your documents.

Go to the Passport Enrollment Section and pay the processing fee (Php 950 for regular or Php 1,200 for express processing).

After payment, have your photo and biometrics taken at the encoding section.

If you prefer to have your passport delivered to your home/office instead of returning to DFA to pick it up, you can stop by at the Delivery Counter and pay the additional fee (Php 150).
Passport applications in Manila usually take 7 days if you avail of the express processing or 15 days for regular processing.
If applications are made in one of DFA regional offices, processing can take as long as 10 days (express) or 20 days (regular). Those based abroad, meanwhile, can expect to receive their Philippine passports after 30 days.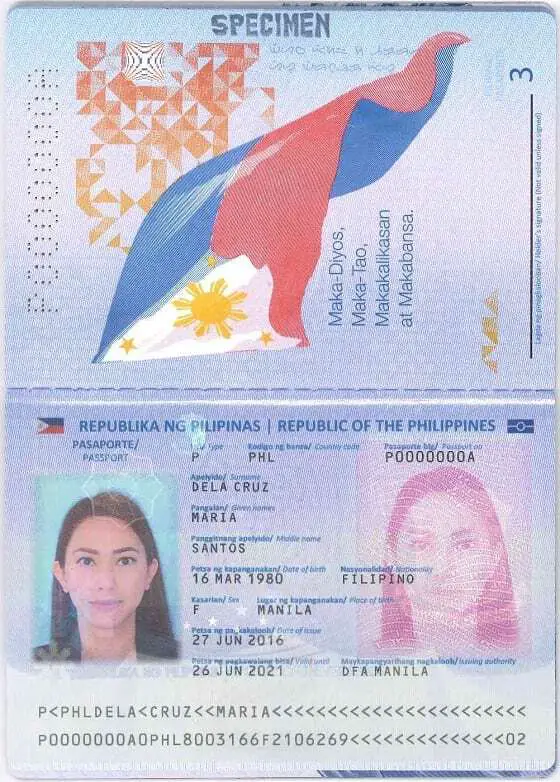 Part II. Philippine Passport Renewal.
Renewing a Philippine passport is as easy as getting one.
The process is almost the same, although in this case, your existing passport that has expired or about to expire is one of the requirements.
Step 1: Prepare all the Philippine passport renewal requirements.
Below are the requirements for Philippine passport renewal:
Expired or most recent expiring passport. DFA recommends renewing your passport at least 6 months before it expires to avoid inconveniences and travel delays. For OFWs or Filipinos living abroad, renew your passport at least 9 months before it expires since it may take weeks or months for it to be processed and issued from the Philippines. In addition to that, some countries won't let you in if your passport has less than 6 months validity. If you're a frequent traveler, you can also request to renew your passport once  half of its pages have been used/stamped.

Valid IDs (see Part I to see the list of accepted valid picture IDs).
Additional supporting documents are required from applicants listed below:
Married women who would like to revert to their maiden name.

Muslim applicants.

Converts who would like to use their Muslim name.

Minors who availed dual citizenship under RA 9225.

Women who would like to change their civil status from single to married.

Applicants who want to renew their e-passport (electronic passport); machine-readable passport (MRP) issued in 2007; green passport issued after May 1, 1995; and brown passport issued before May 1, 1995.
For a complete list of these supporting documents, please go to this link.
Step 2: Set an appointment with the DFA.
Regardless if you're renewing or getting a Philippine passport for the first time, an online appointment is required. Applicants who failed to book an appointment will not be entertained.
However, as I've mentioned in Part I, some applicants no longer need to schedule an appointment online and can go directly to designated priority lanes. These include:
Minors who are 7 years old and below.

Pregnant women with a medical certificate.

Senior Citizen with Senior Citizen ID.

Solo parent with valid Solo Parent ID.

OFWs with valid iDOLE card, visa, and POEA-authenticated employment contract.

People with disability with valid PWD ID or visible disability.
If you don't belong to any of these groups, then you don't have a choice but go through the same process as the rest of us. There are no special lanes for Philippine passport renewal.
Again, you have two ways to set an appointment:
Remember, the appointment system doesn't require any fee. DFA strongly opposes any transaction with fixers who illegally secure slots in exchange for money.
After completing the online appointment, a confirmation message will be sent to your email along with a link to print your application form.
Bring this form with the other requirements on the day of your appointment.
Step 3: Show up on your appointment date and time.
Since the process of getting and renewing a Philippine passport is the same, simply review Section 3 (Part I) of this guide where I summarized the fees and the procedures you'd expect on the day of your appointment.
Frequently Asked Questions.
What should I do if I didn't receive an email confirmation?
There are three possible reasons why you didn't receive it:
You're not using a free Yahoo! or Gmail account. According to DFA, email accounts from Hotmail, Outlook, MSN, Live, etc. have technical incompatibilities with the online appointment system.
It's probably stuck in your SPAM/JUNK folder. Check this folder if no message appears in your inbox after a few minutes or so.
You used the wrong/misspelled email address. In this case, your appointment will automatically be canceled. Wait for 5 days before reapplying.
Can I change my appointment location and schedule?
Yes. You can do it through the appointment system's Reschedule feature. Simply go to  Schedule Appointment->View Appointment.
To reschedule, you need to enter your email address and the Appointment Code sent to your email.

I mistakenly filled out the form for new passport application instead of renewal, forgetting that I was already issued a passport before. What should I do?
No need to worry. On the day of the appointment, every applicant goes through verification procedure to ensure all info and requirements are correct.
Simply explain to the DFA personnel your mistake and that your passport is for renewal.
Just make sure that you'll bring your old passport with you. In case you have lost it, you will need to present a notarized affidavit of loss.
If you have doubts or other concerns, call the DFA Manila hotline at 02) 834 4000. For DFA satellite offices, please look for their corresponding contact details.

How will I know if my passport is an e-passport?Let's say mine was issued in 2013. Is it already an e-passport and therefore qualified for renewal?
The e-passport was first issued in 2009. So if you got your passport in 2013, it's obviously an e-passport.
The difference between e-passport and the old passport issued by the government (MRRP and MRP) is its use of a modern microchip technology that can readily verify the identity of the passport holder.
If you see a microchip logo (small rectangle) below the name PASAPORTE in the front cover of your passport, it's a sure sign that you have an e-passport.
Having said that, you should definitely apply for renewal.

For students who don't have other IDs, can they present their school ID as their primary ID?
They accept school ID for students. Just bring an original copy and photocopies of this ID (along with your birth certificate) and you're good to go.

If my old passport was issued around 1997 (or older) and I lost it through the years, is it still considered for RENEWAL? Or should I apply for NEW Application?
You probably have an old passport that is already phased out so there's no point in renewing it.
DFA has been issuing the new e-passport since 2009. Renewal is only possible if you have this e-passport.
According to DFA, "Renewal of Brown Passports, Green Passports, Machine Readable Passports (Maroon) or any older Passports will be treated as NEW APPLICATION."

This is a common issue among mobile phone users.
I recommend resizing the page to the size of the mobile screen, which means "zooming out" the page so you could view it in its entirety.
Look for instructions on how to "zoom out" on your device since mobile phones operate differently . Or better yet, just do the application on your laptop or desktop.

There's a small tear on the first few pages of my passport. Should I replace it?
I don't think so. Passport replacement depends on the extent of the damage. If one of the pages has already been detached, then you should consider replacing it. Watch this video for more info:

I entered a wrong info in my online passport scheduling form. Can I still change it even though I've already printed the form and the schedule has already been confirmed?
Don't worry. You can make the changes on the exact date and place your of appointment. All applications will undergo verification phase. Just let the DFA personnel know about the error.