The Mysterious Life And Death of Pepsi Paloma
For more interesting stories, please check out our latest book, "FilipiKnow: Amazing Facts & Figures Every Pinoy Must Know."
Undoubtedly one of the most intriguing pop culture figures in the country's history, the life story of Pepsi Paloma is as sad as it is mysterious.
Although having happened three decades ago, the tale of Paloma continues to get a good amount of attention especially after the Eraserheads supposedly made her infamous rape at the hands of three well-known comedians the subject of their song Spolarium (some sources say this is just an urban legend).
READ: 9 Creepy Pinoy Urban Legends That Never Get Old
 Born Delia Duenas Smith to a Filipina and an American father, Paloma was known as one of the "soda starlets" of the 1980s—so-called because they used famous soft drink brands as their stage names. Only 14 at the time, Paloma quickly earned notoriety for going nude in the 1981 film Brown Emmanuelle. Months later, in 1982, she met Vic Sotto, Joey de Leon, and Richie D' Horsie (Richie Reyes) while she was promoting her film.
In a case reminiscent of Maggie dela Riva's two decades earlier but without the same fanfare, Paloma reported to authorities that she and fellow actress Guada Guarin were both allegedly drugged and raped by the three hosts in Quezon City's Sulo Hotel.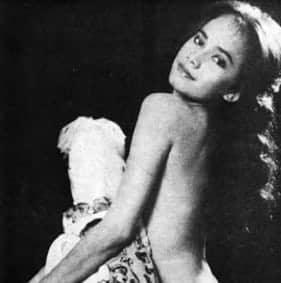 Also Read: 35 Things You Didn't Know About "Eat Bulaga!"
Following the preparation of her case by Rene Cayetano (the father of Senators Pia and Alex Peter Cayetano), Paloma mysteriously disappeared but was later tracked down and rescued from Bienvenido "Ben Ulo" Mendoza, a known associate of the Castelos and Sottos.
Ultimately the case against the three never prospered after Paloma signed an affidavit of desistance in exchange for them issuing a public apology, which they did on national TV (no record of it exists unfortunately) and in the October 13, 1982 edition of the People's Journal (though it did not specifically mention the word rape):
"We hope that you will not allow the error we have committed against you to stand as a stumbling block to that future which we all look forward to. We therefore ask you to find it in your heart to pardon us for the wrong which we have done against you."
Intriguingly enough, Paloma later said she was forced to sign the affidavit by Tito Sotto who allegedly wielded a gun in front of her.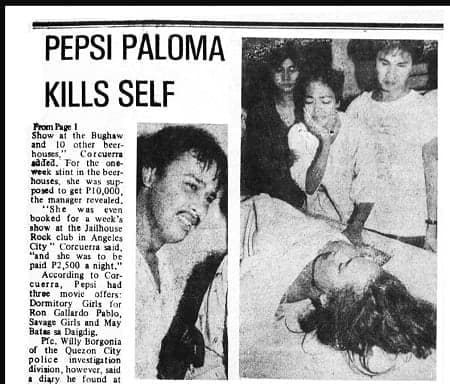 Related Article: Top 10 Pinoy Celebrities with Ridiculous Urban Legends
Then in 1985, the lifeless body of then 17-year-old Paloma was found hanging in her closet with a "three-inch thick and 36-inch long cotton sash" tied around her neck.
While investigators ruled the death as suicide due to the contents of her diary (she was allegedly having money problems, lonely without her mother, and fights with her live-in partner), her manager Babette Corcuerra disputed the depression angle eyed by the police since Paloma was earning well, had adopted a four month-old son, and was even excitedly preparing her debut.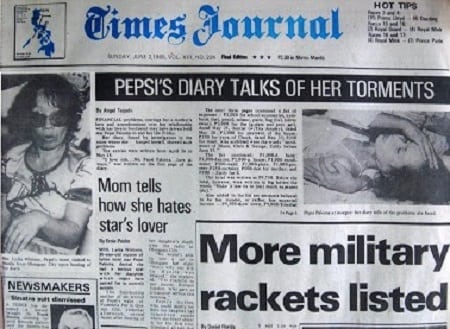 Not only that, no forensic investigation was ever done nor was there any attempt to verify whether the diary actually belonged to Paloma.
So, if Paloma didn't kill herself, whodunit?
About the Author: When he isn't deploring the sad state of Philippine politics, Marcus Vaflor likes to skulk around the Internet for new bits of information which he can weave into a somewhat-average list you might still enjoy. For comments on this article, contact him at: [email protected]
References
Rodis, R. (2014). The rape of Pepsi Paloma. Inquirer.net. Retrieved 13 August 2015, from http://goo.gl/3Knxyv
Rodis, R. (2014). Was Pepsi Paloma murdered?. Inquirer.net. Retrieved 13 August 2015, from http://goo.gl/xvEUfm