How To Ace The UPCAT: Top 10 Tips From UP Students
The University of the Philippines, founded in 1908, boasts of a tradition of excellence.  It is ranked as the top university in the country by the QS World and Asian University Rankings with the Ateneo de Manila and the University of Santo Tomas following behind.
The University of the Philippines has so far produced 7 Philippine presidents, 13 Chief Justices, 28 National Artists, and 34 National Scientists.
Also Read: 30 Things You Didn't Know About University of the Philippines
However, what makes the University of the Philippines a magnet for student hopefuls and their parents is the affordable cost of tuition fees.  GMA Network's survey of college tuitions in the Philippines for 2012-2013 prices a semester at the Ateneo de Manila at P75,000 and a semester at the University of the Philippines, Diliman at a low P20,000.
U.P. is partly subsidized by the state and makes use of STFAP or Socialized Tuition and Financial Assistance Program to determine a student's enrollment fees. Students in a lesser income bracket pay less than students in higher income brackets.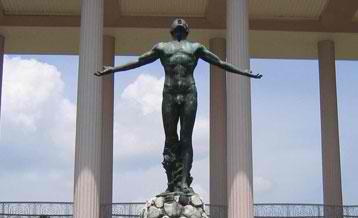 For example, a student who has an annual family income of more than P1,000,000 will pay the full cost of tuition, while a student with an annual family income of P135,000 gets free tuition, miscellaneous, and laboratory fees.
For poverty-stricken families, UPCAT is a chance to provide an excellent college education for their children.
No wonder that students flock to the university come examination time. The 2013 examinations saw another record-breaking year as 83,000 UPCAT examinees took the test.  UP announced results a couple of months ahead of schedule.  Out of the 83,000 who took the exam, only 13,000 qualified to become Iskolars ng Bayan.
Doing the math, this brings your chance to pass at approximately 16%.
But how EXACTLY do you become an UPCAT Qualifier? 
Qualifiers are determined by the University Predicted Grade or UPG.  The UPG adds up your UPCAT score (60%) and high school grades (40%).
Just so you know, the state university reserves 70% of the slots for those with the highest UPGs.  The rest of the slots are reserved for the best of the underrepresented minorities, like cultural groups.
Looking at the UPG, you can see now that putting in all that hard work in high school actually counts for something. However, if you have less than stellar grades, it is all the more reason to get the highest possible scores in the UPCAT to bring your UPG up.
Here are ten tips on how to ace your UPCAT exams.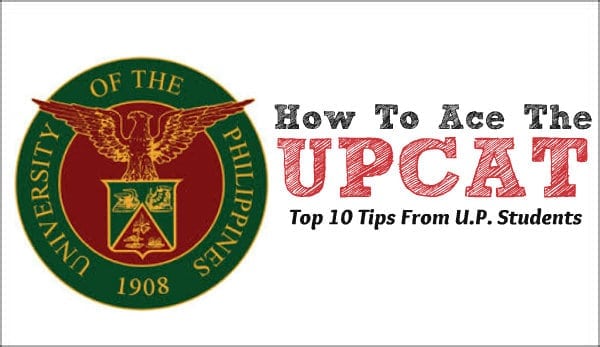 1. Start reviewing early
Even if other students are gifted in intellect or talent, it is not uncommon for hard work to win the day.  If you want to be an UPCAT Qualifier, put in the hard work. Don't cram for your UPCAT review.  Get ahead by reviewing early.
2. Harness the power of the Law of Attraction
Also called the power of positive thinking and visualization, the Law of Attraction states that positive thoughts bring about positive results.  Throughout your review period, focus only on positive thoughts.  Visualize yourself passing the UPCAT.
Using editing software, create and print pictures of yourself as an Iskolar ng Bayan.  Look at your photos when you wake up and before you sleep.
3. Know the test composition and time allotments
While it is possible for the below information to change, the general structure should be as follows:
| | | |
| --- | --- | --- |
| Subtests | Number of Items | Time Allotment in Minutes |
| English Proficiency | 70 | 40 |
|      Identifying Errors | 20 | |
|      Analogy | 10 | |
|      Word Meaning | 10 | |
|      Antonyms | 10 | |
|      Sentence Completion | 10 | |
|      Sentence Improvement | 10 | |
| Science Proficiency | 60 | 50 |
| Mathematics Proficiency | 60 | 75 |
| Reading Comprehension | 60 | 50 |
By knowing the number of items for each subtest, you will know how much to study for each subject.  At the same time, you can practice answering x number of items within the allotted time.
4. Practice the different test types
Nowadays, you don't need to go to your UPCAT exam not knowing what to expect.  School-sponsored reviews, book reviewers, and college review centers will tell you what type of tests will most likely appear in the exam.
From the table above for example, you can already get a good grasp of the test types for English. Practice these test types to develop test-taking skills.
5. Optimize review materials
Students with money to spend usually enroll at review centers and buy all the UPCAT reviewers in bookstores to get an edge.  If you have limited funds, borrow from friends who have taken the UPCAT before you.  Or, you can buy materials second hand from the Internet.
Some review materials are good.  Some are bad.  Ask past UP examinees to find out which reviewers bear the closest resemblance to the actual UPCAT exams.
There are also apps available to help you review for UPCAT.  Instead of playing Candy Crush or Angry Birds, why not review on your mobile phone?
6. Practice with questions in Filipino
Because it is the state school, some of the questions in Reading Comprehension, Mathematics, and Science will be in Filipino.  If you are not well-versed in Filipino, you will be at a disadvantage.  Practice with materials in the Filipino language also.
7. Make note cards
Note cards are an excellent way to consolidate and organize those formulas and important concepts you need to remember.  Just punch a hole and use a ring binder to keep them together.  This way, you can bring them anywhere, and flip through them as you study and memorize.
8. Learn how to derive the meaning of unknown words
In an exam, you may encounter words that you do not understand.  These words may appear in the directions, the test questions, or the answer choices.  Not knowing the meaning of words will surely keep you from getting the correct answer.
Unless you have superpower abilities to memorize the entire dictionary, you can learn how to derive the meaning of unknown words by studying prefixes, suffixes, and root words.  You can also get a working knowledge of etymology.
9. Make educated guesses.  Leave no blanks behind!
The UPCAT has a "guessing penalty" of one-fourth of a question per missed question.  The system also does not penalize for unanswered items.
However, statistically speaking, it is better to make educated guesses than to leave blanks when you are not sure of the correct answer.  A blank ensures a 100% incorrect score, while an intelligent guess allows for a percentage of success, especially if you are a master in the process of elimination.
Here is a general tip on how to eliminate answer choices: Out of, say, five choices, one or two will be obvious wrong answers.  Mentally cross those out.  Next, there will be at least two choices that will be the most likely correct answer.   Sometimes, a giveaway is when two or three choices are very close to each other in value or meaning.  Do as much analysis as you can to arrive at the most logical choice.
10. Manage your time wisely
Easy or difficult, test items have the same point value.  And, they're jumbled up in the exam too.  To manage your time optimally during test-taking, answer the easy questions first.  Then, go back for the more difficult ones. Spending too much time on difficult questions in the beginning might eat up your test time and leave you no more time to answer questions you would normally be able to answer.
Also, make sure you are answering the correct numbers on your answer sheets.  Some poor souls have been known to unknowingly skip a number and ruin their entire test.
Here are a few more quick reminders:
Do an ocular inspection of your test building and room a few days before the exam.  Knowing how the place looks like means less frazzled nerves.
Bring a jacket.  In the 2013 exams in Diliman, some test takers reported that the proctors turned up the aircon REALLY high, making the room an icebox.  Extreme temperatures can ruin your concentration.
Bring sweets.  They help keep your energy up for those long grueling hours.
Don't cram the night before the exam.  Get enough sleep and rest.  You can't study everything so just calm your mind instead.
Additional UPCAT Facts & Test-Taking Tips:
UPCAT General Information – University of the Philippines Office of Admissions
Tips for UPCAT Takers – Rappler
10 Things UPCAT Takers Should Know – ABS-CBN News
How to pass UPCAT, as told by Twitter Philippines – The Philippine Star
Free Online UPCAT Reviewers:
Free UPCAT Reviewers: Modules & Readings – Academic Clinic
Compiled UPCAT Questions – Review Masters
And that's it!  Good luck on your UPCAT review and exam. Don't forget to get back to us and tell us what tips worked for you.